Maximizing the Impact of Your Email Marketing Campaigns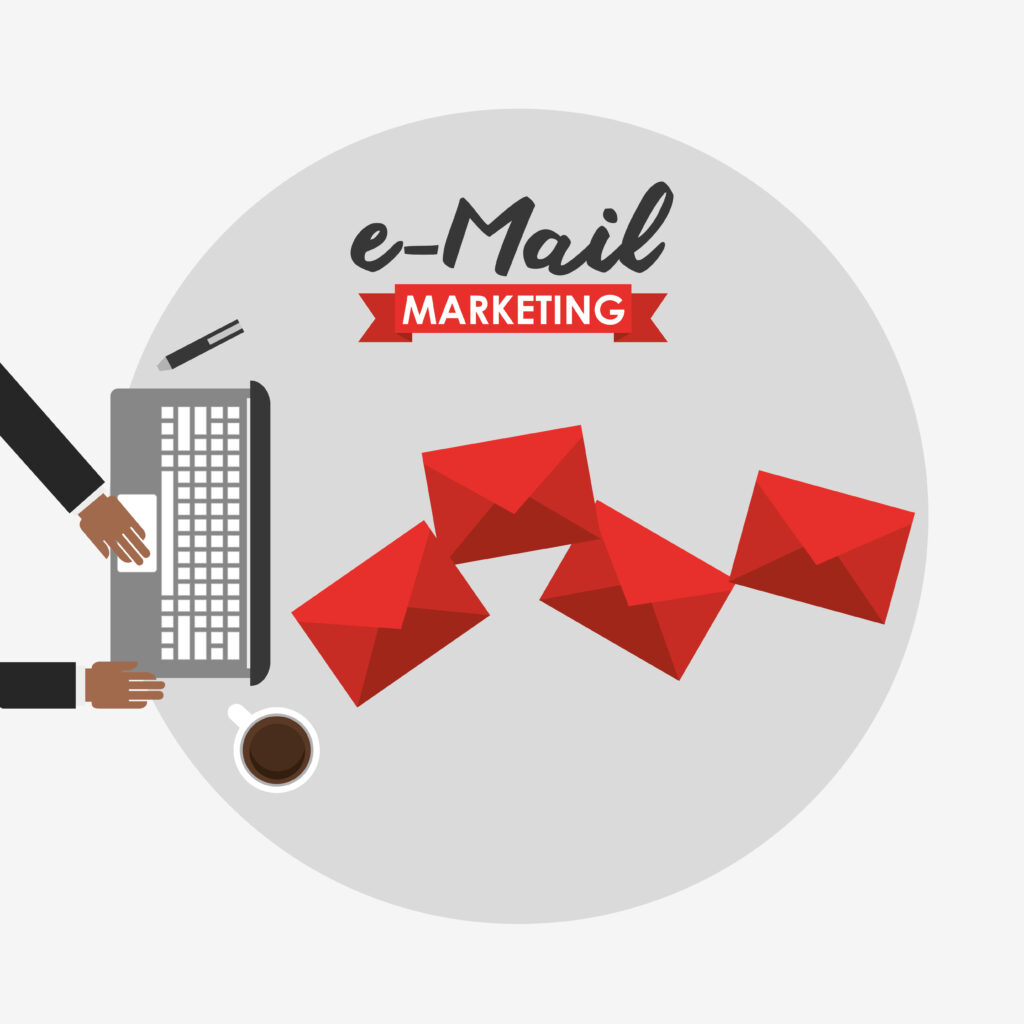 Email marketing is a cost-effective and powerful tool for businesses looking to expand their reach. It has a low entry barrier and doesn't require sophisticated technology or design skills. Compared to other marketing tactics, email creation is quicker, with reduced upfront costs and easy tracking and measurement. It's an adaptable and effective way to promote goods, services, or both, with the potential for a high ROI.
Rate of Channel return
Email marketing made up 73% of the market, followed by SEO (67%), content marketing (62%), PPC (59%), and affiliate marketing (47%).
Despite numerous years of forecasts that email marketing will be replaced or eventually disappear, that time has not yet come. One of the best methods for contacting both current and potential customers is email marketing.
Ways You Can Enhance Your Email Marketing
Segment your customer base
It's possible that some of your subscribers are interested in news, events, or coupons, but not necessarily in all three. Consequently, it's crucial to know to whom you are sending emails. Consider age-based email list segmentation, for instance, if you provide discounts to seniors or students. If you have a press release, send it by email to a specific media list as opposed to your general one. Giving your subscribers and clients pertinent messages can result in increased open and click-through rates as well as few subscribers.
Make sure the GDPR is followed by your opt-in procedure
The General Data Protection Regulation (GDPR), a rule passed in May 2018 to better secure the data of internet users, is undoubtedly something you've heard about.
This lengthy piece of legislation is not something we anticipate you to know by heart. There is one important rule you should follow when creating your email marketing campaigns, though, if part of your email subscribers is in Europe.
Tradition might urge you to include a pre-checked box that asks people to join an email campaign when they land on a page of your website that requests their personal information so they can receive updates and exclusive offers relevant to your company.
Today, pre-checking this box is against GDPR. Make sure your European users and customers have the obvious option to subscribe to your email newsletter to comply with GDPR; don't make that decision for them.
Email your new contacts, at least within 24 hrs
It's crucial to seize the window of opportunity when your brand is fresh in your prospects' minds.
Within the first 24 hours of someone signing up for your newsletter, an offer, etc., send them an introduction email. Additionally, this is an excellent chance to establish expectations and brand.
Instead of using your company's email address, use a genuine personal email
Your email open rate increases when you send emails that appear to be from a genuine person. Simple as that. Personalized sender names and email addresses tend to be more credible than generic ones, according to previous testing we've done
Create a Preview Text Template
The subject line and the first few lines of your email's body will be displayed together in email applications like Outlook, Gmail, and the iPhone Mail app. An excerpt of the email's text is provided here. Depending on the email client and user preferences, the precise amount of text displayed may vary.
Make use of it to give a succinct, concise overview of what you're giving. Do not exceed 50 characters.
Create topic lines that are easy to click
In receivers' inboxes, your marketing emails are up against a lot of competition. Writing attention-grabbing, "can't-help-but-click-on-this" subject lines are the best method to stand out.
Write your email as though you were chatting to the recipient in person to keep it succinct and interesting. If your email must be lengthy, divide it into several paragraphs and include visual breaks. Your reader will find it a lot simpler to skim it as a result.
Each email should contain one call-to-action button
Recall how I said that many of your email recipients will scan your messages rather than read them all. For this reason, you should have a distinct call-to-action (CTA) button that even the fastest email scanners can easily identify.
Without a CTA button, you won't be urging your audience to do anything that will help them and the development of your company.
Your CTA should be placed in a prominent spot that is both simple to see and where clicking on it makes sense. For instance, you could include a CTA in an email that offers a free booklet on innovative ways to use your product.
Add a caption to the CTA image
Images, especially your CTA buttons, are frequently blocked by default in email clients. That implies that a sizeable portion of your audience might not see your gorgeous, optimized CTA.
However, by specifying an image's alt text, you can inform recipients who are unable to view images in emails of exactly where to click to accomplish a task.
You can manually input the alt text in your email's HTML editor or edit it in your email's rich text editor (simply right-click the image and edit away).
Your emails photos should be linked
Getting consumers to click through to a website is the ultimate goal of email marketing. Making links to the webpages that match the graphics in your email is one approach to increase clickthroughs.
Let's imagine you sent an email encouraging readers to download an ebook and it was accompanied by an image of the book. Don't just link to the text that says, "Download it here," which is located next to the image. Include the ebook's cover image as a link.
You want to give your email subscribers as many opportunities as you can to download your ebook because people are more often drawn to graphics than to words.
Add recognizable text connections
Along with the prominent and well-defined call-to-action button, link to your main offer in several locations.
More links improve the likelihood that users will engage. You can persuade the reader to click the link.
Set up a minimum of one clickable item
What is a method to raise email engagement? A CTA button, a text link, or a clickable image should be placed one or more times near the opening of your email.
Mobile users will find this to be extremely useful. On mobile devices, scrolling is frequently necessary, along with occasionally squinting, pinching, and zooming. Giving a receiver something useful that can be used right away can increase clicks in this setting.
To all of your photos, add alternative text
When you include alt text with your email photographs, readers can still understand your message even if they can't immediately view the images.
Make your alt text clickable by including phrases like "Click here to download the ultimate content creation kit." Every connected image will essentially become another CTA if the alt text is actionable.
Do not use background images
If your target customers frequently use Outlook as their email client, this is extremely crucial.
Background graphics are completely unrecognizable in Microsoft Outlook. It's recommended to stay away from utilizing background images entirely given that Outlook has 7% of the market share and is the fifth-most popular email client overall (your industry may have far higher numbers).
Instead, utilize a backdrop color and incorporate graphics into your email in different ways.
Insert social media sharing buttons
The more people who notice your link, the more likely it is that they will click on it. So make sure to include social sharing buttons in your email to make it last longer.
Simply enter the target URL, and you're ready to go. Many email programs (like HubSpot) include templates with built-in social sharing buttons that make it simple. Here is a cheat sheet for making your social sharing buttons if your platform lacks built-in functionality.
Share more easily with pre-written tweets
If you make something simple for people to do, they are much more likely to do it. You can make it simple for recipients who are too lazy to share the fantastic content you provided them via email by making a "lazy tweet."
What is a quick way to accomplish this? utilizing the free custom tweet link generator ClickToTweet. Go to ClickToTweet's default tweet generator first. After that, enter your tweet, the URL you want it to go to, and any hashtags.
After selecting "Generate New Link," take note of the link. Once that is done, you may connect it to your Twitter sharing button. You may even include it in your main email message if you segment your list based on variables like "topic of recent conversion: social media" (you'll need marketing intelligence tools like HubSpot for this).
Include a forwarding email option
Encourage your audience to send the offer as another approach to increase the number of clicks on your email after it has expired.
The people at Litmus discovered that "Share With Your Network" calls to action were 13 times more prevalent in the most forwarded emails than they were in the average email. You can encourage sharing by inserting forward-to-a-friend or social sharing links.
The conclusion of your email copy can include a brief postscript, such as "Not in charge of your company's social media? Please feel free to use social media marketing to forward this booklet to a friend or coworker.
Connect the call to action to an email that has already been created and has a subject and body. In this manner, all a person needs to do is enter the email addresses of their colleagues and click "Send."
Clean up your emails' plain-text content
Not all recipients will view your email in its lovely HTML and rich-text format. Some email programs do not support HTML-rich emails, and occasionally a user may select to only view messages in plain text.
Cut the additional language, use abbreviated tracking URLs in place of long ones, and keep the body straightforward. Spending an extra five minutes to make your email's plain-text version more effective could increase the number of people you reach and prevent it from going into the spam folder.
Make your emails mobile-friendly.
It's critical now more than ever that marketers design their emails with mobile users in mind as more and more people read emails and browse the web on their mobile devices. If not, their user base will be negatively impacted.
Before sending your emails, preview and test them
Make it a habit to check your emails one last time before hitting "Send" when you are ready to send them. If your email marketing platform allows you to view a preview of how your email will appear on popular devices and email applications used by your audience.
Organize your contact list
It's tempting to keep every subscriber you get for an email campaign until they decide to unsubscribe.
But it doesn't necessarily indicate they're still interested just because they haven't unsubscribed from an email newsletter. Inactive subscribers can drastically reduce the open and click-through rates of your emails.
Clean up your email list to remove recipients who haven't opened a particular number of emails in the campaign's recent history to ensure you're only sending emails to individuals who want to read them.
By ensuring that only your most interested readers are included in your emails' statistics, you may gather more accurate information about what is and isn't working in each email you send.
Additionally, a quality email list cleaning service eliminates any additional email addresses that could endanger your inbox placement.
Keep track of each email's efficiency
Your email campaign's current success might not carry over to the following month. You must monitor the open and click-through rates of your emails to find areas where your copy might be strengthened.
Of course, you'll need a solution to track your email analytics to achieve this.
Use your email performance data to do A/B tests that are intended to reveal what your subscribers desire from your newsletters. Pay attention to the trends you spot to improve the appeal of your email campaigns.
Conclusion
Even though email marketing can be challenging at times, we are right there with you.
You can improve opens and clicks on your emails, which will increase the number of leads you create, by delivering enticing offers to the appropriate target groups and paying attention to the small elements that go into an email.
Resources