How to use Statistics within the cPanel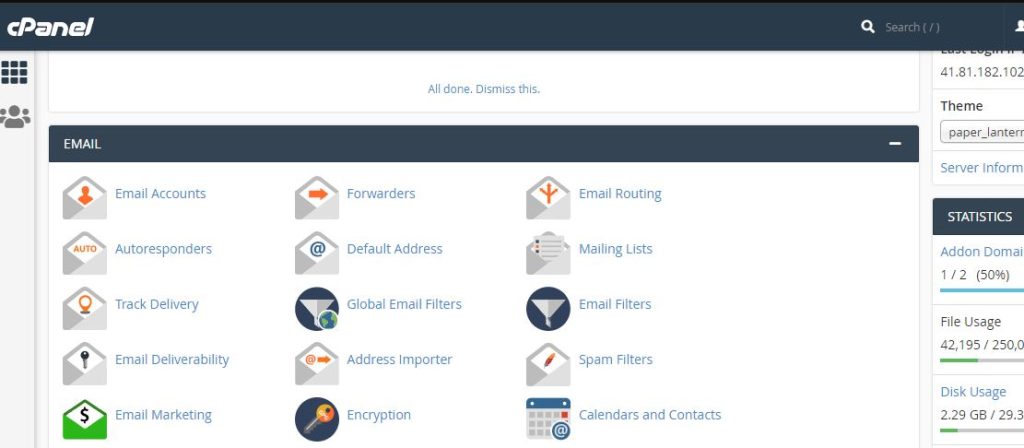 To successfully manage a server and ensure the website is up and running, webmasters must be very keen on the key cPanel usage statistics. Exceeding limits may lead to errors 500, 503 & 508
A cPanel is Linux-based software for web hosting. It comes with automation tools and a graphical representation which makes it easier for managing websites. cPanel is developed and owned by cPanel, LLC.
Without a control panel, one will be required to run a number of commands in order to execute a simple task such as checking the CPU usage.
The cPanel software can be installed and used on different types of hosting i.e shared hosting, managed WordPress, and dedicated servers. Let's now take a look at the uses of a cPanel.
Uses of a Cpanel
Publishing A website
cPanel provides a great platform for web developers to publish and let their websites go live. Whether the website has been programmed locally or developed using CMS such as WordPress, a cPanel allows your website to be accessed on the internet.
Domain management
A cPanel account comes with different partitioning that allows a given number of domains to be hosted. This mostly depends on your web host and the package you have purchased. There is the primary domain name, which is the domain assigned while purchasing your hosting package, and the addon domains which are the additional domains that you can host within a given package. By default, the primary domain is assigned the document root file /public_html.
When you add an addon domain, a document root file is automatically created in File Manager with the name of the domain.
Web files Management (File Back Up)
A cPanel comes with file management software where you can upload, manage and edit site files. Through the JetBackup, files can be backed up periodically within a server and restored when needed.
Email Accounts Management
Depending on your web host and the type of package you are using, you can create email accounts and manage them within the cPanel. There are some packages that support an unlimited number of emails. One can create and manage email accounts.
Hosts Software/Apps
To perform different functions, cPanel is integrated with other supporting software such as softaculous app installer which allows users to install CMSs such as WordPress for web development.
Database Management
A database is a collection of structured information stored in a computer system. A cPanel is a form of DBMS (Database Management System) with an interface for creating, reading, protecting, and deleting databases. The cPanel supports two types of databases MySQL® and PostgreSQL.
Users Management
A cPanel is integrated with User Management APIs which makes it easier to manage users of a cPanel account. One can create a user account, authentication, and password management.
DNS Management
A DNS or Domain Name System is a naming system for computers, software, and other resources within the internet that translates everything into machine-readable IP addresses. Cpanel has a Zone Editor which allows you to add and update DNS Records. Another great DNS management software is Cloudflare it is both secure and reliable.
Security Management
Web security can be managed within the cPanel. Security is taken care of by features such as SSH Access, IP blocker, SSL/TLS, ModSecurity, Two-Factor authentication, and Immunify 360 among others. These modifications can be made within the cPanel to reinforce the security of a website, app, email, or system that is hosted.
Automation (Cron Jobs)
Tasks such as sending emails within a cPanel can be Scheduled and executed at a later time. This is done through a Linux-based command known as Cron Job.
Key cPanel Statistics/ Metrics for Every Developer
The Key statistics are usually placed on the right sidebar of a cPanel and it indicates how resources are being utilized within the cPanel in real-time. It plays a crucial role in alerting a webmaster in the event that the limits are exceeded.
These Metrics are:
File Usage
Entry Processes
Number of Processes
Disk Usage
Physical Memory Usage
Bandwidth
CPU Usage
IOPS
I/O Usage
File Usage
Refers to the number of files uploaded in an account also known as disk Inodes. When file usage has exceeded the limit, you may need to delete some of the redundant files in your file manager or uninstall inactive plugins.
Entry Processes
These refer to the number of PHP scripts you can run at a single time and include SSH and Cron Jobs. When this is exceeded the user will receive error 508 and as webmaster, you may choose to kill some of these processes.
Number of Processes
Same as Entry Processes only that they include a number of processes generated by the account or website and not just specific pages, cron jobs, or SSH. Users may get errors such as error 500 or error 503 when the limits are exceeded.
Disk Usage
This is one crucial metric to check before purchasing a hosting account. Disk Usage is the quota of your hard disk that is currently in use to run programs and carry out tasks. The cPanel keeps track of the disk usage for the entire account including email accounts, databases, etc.
Physical Memory Usage
Physical memory is also called installed RAM in a given cpanel account. This is another key feature to check before you make a purchase for a hosting account. All the processes, scripts, and databases take a given proportion of the physical memory within a cPanel. A RAM of between 1 and 4 GB is ideal for hosting multiple websites. When exceeded, users will get errors 508,500 & 503
Bandwidth
Bandwidth is the amount of information that your server transfer and receives. The statistics shown in cPanel are not a real-time view but server logs collected over time. An ideal Bandwidth should be unlimited ∞
CPU Usage
This indicates the percentage of the processing power exhausted to process data and run programs within the cPanel. 100% Cpu indicates that your cPanel is trying to do more than its capacity.
IOPS
IOPS in full is Input/Output Per Second. It is the amount of data you can read/write within your account per second.
I/O Usage
Input/Output Usage relates to the time taken for data to be written. It is closely related to IOPS
Conclusion
The cPanel is such a useful tool in web development and server administration and to fully make use of it, one needs to understand the meaning of different features within it. The statistics in cPanel function as a guide to ensure that the limits are not exceeded and site uptime is at the maximum.
Resources